Endless Path Zendo, in Rochester, NY, is a lay Buddhist group, intimate and non-institutional in atmosphere, dedicated to walking the Buddha Way in the midst of our ordinary lives. We find our center of gravity in the deep creative imagination of Zen and in the ancient vows of the Bodhisattva.
On coming to the zendo for the first time
Typically, first-timers are asked to come on a Tuesday night and to arrive at 6:15 for orientation. If you do not already have Zen practice experience (zazen), the head of zendo will give you a brief introduction to practice and to zendo procedures. If you're interested please email ahead so everything can be arranged.

Non-members may come to one dokusan (one-on-one teaching) with Roshi Martin. Non-members who have sat with us at least once, can then email their interest in dokusan or notify Head of Zendo. Non-members who attend zazenkai or sesshin can come to all the dokusan for that practice event. Non-members traditionally place a small offering for the well-being of the temple in one of the donation envelopes whenever they visit.

Please wear comfortable, dark, unpatterned clothing so as to not distract others. Except for the teacher, we do not wear robes. If you have a rakusu please bring it to wear for the sitting.
Wednesday: 6:30-7:30 am
and 7-8:00 pm
Morning: one hour with dokusan. Evening: one 25-minute period of zazen followed by kinhin and a healing chanting service dedicated to the welfare of all beings.
Sat: 9:00 a.m.-11:30 a.m.
Saturday morning we sit three 25-minute periods of zazen with dokusan and kinhin followed by teisho and often group discussion.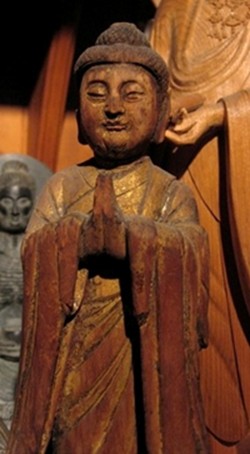 Please wear dark, solid colored clothing that is not distracting in design, and is loose and comfortable enough for sitting in.
Please make a standing bow toward the altar when entering or leaving the zendo except when going to dokusan (private interview with the teacher).
When taking your seat in the zendo, first bow to your cushion, then turn and bow to the other sitters.
If you need to change your position during sitting, make a slight bow and quietly do so. But don't squirm, scratch or fidget during zazen.
If you bring a water bottle or thermos please leave it on the water table and only drink from it during kinhin, between rounds of zazen.
If you plan to come to dokusan, remember to email ahead the day before.
Why rules? We have them in order to be harmonious with ourselves and within a group. When we really establish such harmony that is what the sangha is; that is what the Sangha Treasure is. If you were in harmony and the group were in harmony, then maybe we wouldn't need rules and regulations. But since we aren't, well…please, really observe these simple things.

—Taizan Maezumi Roshi
Calendar